Cranwood Homes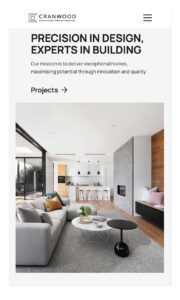 Just completed for Ireland's pioneering property developers, Cranwood Homes Ltd.  A development company specialising in prime residential sites nationwide. Cranwood Homes provide exceptional homes geared to contemporary living.
In a time of dynamic changes in modern living, homeowners' needs are constantly evolving. Cranwood Homes understands this and strive to create homes that are stylish, innovative, and adaptable. Cranwood excel at developing properties efficiently and are continuously adding fresh, exciting sites to their portfolio. They embrace the evolving landscape of life and continue to build future-proof homes for their clients.
The new Website developed by Stewart Design helps to project this philosophy fully and provides a portal for current and past projects. While creating the proposition that their mission is to deliver exceptional homes, maximising potential through innovation and quality.